DUNSMUIR at the BASE-ALPHA gallery
From december 17 up till february 27 my solo exhibition 'DUNSMUIR' is shown at the
Base-Alpha gallery
, Kattenberg 12, 2018, Antwerp. The gallery is open from 2 - 6 PM on wednesdays through saturdays.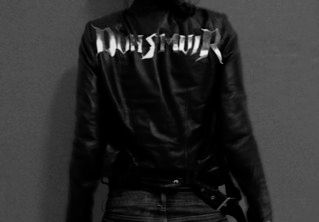 'DUNSMUIR' is a small town in the mountains of northern California. I accidentally passed through this town on a road trip in the summer of 2009. I was only there for less than five minutes, but this was apparently enough for my imagination to run amok.
This is the animation I made about the short visit:
The image above the animation, which is the image for the invitation of the exhibition, was used because at the time of printing these invitations I had no clear idea about how or what the exhibition would look like. I just had some elements and a vague idea of an atmosphere, combined with some books I was reading at the time. I had only one-and-a-half week to build up. The walldrawings were designed and drawn in that period. Normally I like to work with Indian ink, but this ink is difficult to paint over so, out of consideration for the gallerist, I used acrylic wallpaint.
More photo's of the exhibition can be viewed
here, on my myspace
.
There are two interesting facts about the town of Dunsmuir:
On the website of The Dunsmuir Chamber of Commerce & Visitor's Center there's this statement:
"Whether you are looking for adventure and excitement... or rest and relaxation... your adventure begins in Dunsmuir. One warning: If you visit Dunsmuir, you may never want to leave your "new home" again."
Not long ago one of the friends I made in California left a message on my facebook wall:
"Just drove through Dunsmuir today on my drive back from Oregon and thought of you. 899 miles of clear sky, and 1 mile of thick fog surrounding Dunsmuir."